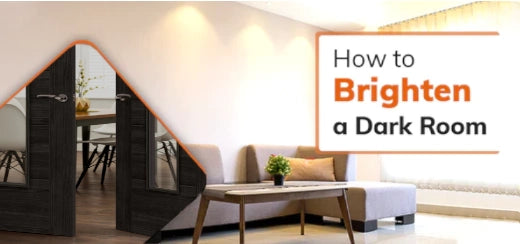 How to Brighten a Dark Room - 20 Useful Tips
A room with a lack of natural light is uninviting and displeasing to the senses. You could find spending time in the dark-room disorienting and dull in the long run. A well-lit and airy space, on the other hand, is more captivating and brings warmth and freshness instantly. A bright room boosts energy levels and improves the overall well being of the occupant. Moreover, such rooms inspire liveliness that makes the space more vibrant.
Here are some fantastic ideas and tips on how you can transform your dark room into a bright space without compromising with your choices.
Useful Tips on How to Brighten a Dark Room
Put a Mirror
The easiest trick is to put a mirror on the wall in your darkroom. The reason behind this is adding a mirror creates a reflection that can spread the rays into your room, thus lightening up the dark space.
Paint Ceilings White
A room with a dark ceiling or dark wooden beams looks gloomy and small, making you feel restless. To lighten it up, you can paint the ceiling white. This also makes your room look quite bigger than before. 
Use Doors With Glass Panels
A room with no windows or solid doors and no glass panels block out the natural light entering the room. You can replace your solid internal doors with glass panel doors or Internal French Doors with Side Panels. You can also choose the frosted glass door, which allows light and brings in the privacy factor.
Use Minimum Furniture
Go the minimalist furniture way when it comes to furniture in your darkroom. You can raise furniture pieces off the floor. This makes the room more spacious and allows natural light to flow easily across the corners of the room. 
Use the Light Color Paint
You can go with the pale and pastel look for your rooms or paint the walls with the reflecting paints and dump the dark colors. Light color paints on the wall promise fresh look and make your room feel lighter and brighter.
Use White Elements
White is here to stay forever! Using lots of white creates brings brightness and positivity to any space. Brush your walls and ceilings with white paint. You can also think of adding more white using white elements like white frames, art pieces, curtains, bedding, or even furniture in your room.
Use Thin, Linear Black Elements 
Incorporating linear stark black elements like picture frames, chairs, or floor lamps in your darkroom adds a touch of contrast, making the surrounding areas pop up. This sets the darkness to rest and gives a classic feel to your room.
Use Daylight Color Bulbs
Daylight color tone bulbs such as yellow lights provide better brighter output. You can also update your blue bulbs with the "true white" bulbs to bring in a fresher and brighter look.
 Light-Colored Rugs
Traditional light-colored rugs or off-whites are a perfect blend of airiness and richness. Hence, you can replace your laminate floorings with these beautiful rugs. 
Use Light Window Treatments
Swap the heavy draperies with light window treatments that allow natural light to flood in. You can choose the opaque treatment that also provides privacy as well.
Still, looking for smart tips on how to brighten a dark room? We will get everything covered here in the tips from ceilings and floorings to light fixtures and accessories.
 Try a Glossy Ceiling
High-Gloss paint color on the ceiling is not only a perfect place to experiment with designing but also reflects light in the dull room.
Use Light Wood Flooring
Light wood flooring is ideal for brightening up any dark and less spacious room. For masking scratches, light stains can also be the right choice. 
Add Shimmery Accessories
Adding shimmery accessories in gold or silver can transform a gloomy room in no time. You can add a metallic mirror or any fancy objects that reflect light, thus making your room look bright and even more luxurious. 
Use Light Fixtures
You can use light fixtures throughout your room and aim them upwards to compensate for the light on the ceiling as the day dooms.
Place Bookshelves Perpendicular to Window Walls
Placing bookshelves or any partitions perpendicular to window walls will allow natural light to flow in. So, shift your parallel bookshelves and let the light enter your room with ease.
Use Shiny Surfaces
Adding shiny surfaces in your room reflect the natural light and add more brightness to the room. You can add mirrored surfaces or acrylic accents and other glimmering items.
Add Lights on the Walls
Lights can never go wrong. You can brighten up the dark corners giving the space a sense of depth and liveliness by just adding lights on the walls.
Add Elements of Pale Wood
Add elements of pale wood or add plants to lighten up space naturally. This instantly adds more light to the room.
Limit Dark Color Usage
Focus on your color scheming as too many dark shades can take away the life from your room. Paint the walls with pastels and bright reflecting colors to complement the dark wall in the room.
Use Arts & Accessories on the Walls
Minimize the usage of accessories and art on the walls that make your room look dark and small. Swap them with bright and colorful art and accessories.
In the end, it is all about seeking a healthy balance of brightness and darkness in your rooms. Make sure you always focus on eliminating the darkness and pour in more white and brighter elements to make your space lively and airy.
We hope these tips and ideas help you make your room more spacious and brighter than ever.
ABOUT THE AUTHOR: SHABANA KAUSER
Shabana Kauser is the dynamic owner of Emerald Doors, the famous door-selling company in the UK with immense knowledge and experience in working with architecture, interior design, and home decor. She continues to share tips and technical know-how of balancing interior elements, door fittings, room aesthetics, and the like. Personally, she loves coffee, always dabbling with several blends.