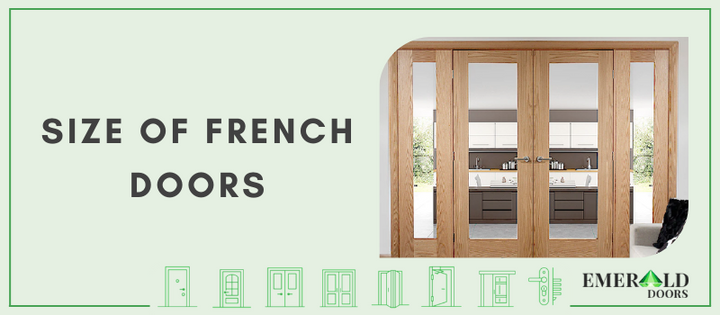 Standard Size of French Doors: A Complete Guide
A French door is a type of door that has two "leaves" or panels that swing open to either side, making it resemble a large window. These doors are often used in exterior applications, such as in front of a porch or deck, because they allow natural light and fresh air to enter the home.
However, they can also be used indoors to create an open and airy feel in a room.
The standard French door sizes are typically 80 inches wide by 36 inches tall. However, they can be made in any size, depending on your needs.
The standard exterior French door sizes are:
24 inches wide by 80 inches high

30 inches wide by 80 inches high

36 inches wide by 80 inches high

48 inches wide by 80 inches high
What French Door Sizes are Available
A French door has two panels that open outwards to the sides, forming a large opening. French doors are available in a variety of styles, designs, and sizes and can be used as an entryway into your home or as a patio door.
The most common size is a 36-inch door, which is perfect for a small to medium-sized opening. There are also 48-inch and 60-inch French doors, which are perfect for larger openings. However, if you're looking for a French door that is wider than 9 feet, you may need to custom order it from a door manufacturer or supplier.
Custom French Door Sizes
 Some of the other French door sizes that are not commonly preferred are:
60" x 80"

72" x 80"

84" x 80"
These custom French door sizes are the sizes that are not included in the standard sizes of a French door. These are usually custom sizes made to fit a specific space or opening.
How to Measure for French Doors
To measure French doors, you will need to measure the height, width, and thickness of the door opening along with the door. Once you have these measurements, you can use them to calculate the size of the French doors that you need.
Decide on the size of the door. French doors are available in a range of sizes, so choose the size that will be best for your needs.

Measure the width of the opening where you want to install the door.

Measure the height of the opening where you want to install the door.

Add 1 inch to both the width and height measurements to account for the width and height of the door framing. This will give you the total dimensions of the opening that you will need to order a door that is this size.

Order your French doors and have them installed by a professional contractor.
Which Is The Best Material For French Doors
There is no definitive answer when it comes to the best material for French doors. However, some materials are more popular than others due to their durability and weatherproofing abilities.
1. Wood
Wooden French doors are a popular option, as they offer a natural and traditional look that many homeowners prefer. However, they do require regular maintenance in order to keep them looking their best. Additionally, wooden French doors may not be the best choice for climates that are prone to extreme weather conditions, as they can become damaged easily. Some of the most popular woods for French doors include oak, cedar, mahogany, and pine.
2. Aluminium
Aluminium French doors are a good option for homeowners who are looking for a durable and weatherproof option. Aluminium is a strong metal that can withstand harsh weather conditions, making it a good choice for areas that experience extreme temperatures or heavy rainfall. Additionally, aluminium is a lightweight material that is easy to install, making it a good choice for those who are not familiar with home repairs and renovations.
3. Steel
Steel is a sturdy and reliable material that is perfect for French doors. It is resistant to damage and weathering, making it a great choice for exterior doors. Steel also has a high insulation value, which can help keep your home warm in the winter and cool in the summer.
4. Fibreglass
Fibreglass is a very strong material that can withstand a lot of wear and tear, making it ideal for doors that will be used frequently. It is also resistant to weathering, meaning that it will not fade or rust in outdoor environments. These doors are typically very affordable, making them a cost-effective option for homeowners.
5. Vinyl
Vinyl is a preferable material for French doors because it is durable and easy to maintain. Vinyl doesn't rust, corrode, or dent like metal can, and it doesn't fade or warp like wood can. Vinyl is also easy to clean - just a quick wipe-down with a damp cloth will do the trick.
There are many factors to consider when deciding the best material for French doors. One of the most important factors is the climate where the doors will be installed. If the area is prone to severe weather conditions, such as heavy rain or high winds, then a strong and durable material, such as steel or aluminium, would be better than wood.
Another factor to consider is the style of the home. If the home has a traditional style, then wooden French doors would be a good choice. However, if the home has a contemporary style, then aluminium or fibreglass French doors may be a better option.
Key Takeaways
There are numerous sizes of French doors available in the market. Some are small, and others are quite large. It really depends on your personal preference and what you are looking for. If you want a small door, then there are plenty of options to choose from. If you need something bigger, then there are also a few larger sizes to select from. Ultimately, it is up to you to decide what size is best according to your door requirements.
Whether you are looking for internal doors or external doors for your home, Emerald Doors is a one-stop solution for all your door needs.
Browse Door Categories & Accessories