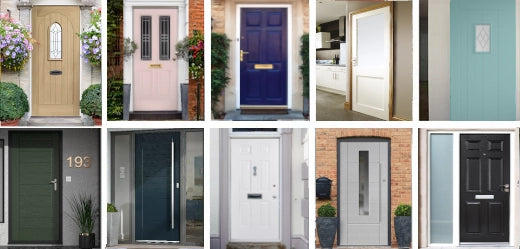 Most Popular Door Colors - 2021
The trend in furniture keeps changing every year. And to be honest, it does not make sense to keep changing your furniture every year to stay ahead with the trend. The best suitable option here is to paint your doors with popular front door colors. This way, you can match with the latest trends without having to spend a fortune.
Painting your door with fresh and trending colors gives you the freedom to change your home's color palette with fresh accents. Amazing door colors can add value to your home and even boost up the sale price of your home.
A freshly painted door can make your home feel new again. You can easily make an impact with your entryway. There are endless options when it comes to door colors. While some options remain classic throughout the year, the other options are recurring with trends.
Table of Content:
Popular Door Paint Colours:
White
Black
Grey
Classic Wood
Red
Purple
Teal
Yellow
Turquoise
Orange
Olive Green
Royal Blue
Wine
Pink
Pastel Shades
Let us look at all these trending door paint colors in detail.
1. White
Popular front door colors like white are known to be purely classic and elegant. White color represents purity, simplicity along with a sense of freshness. This color gives a simple, organized and sophisticated feel when compared to the other front door colors. This is one of the classic colors you can never go wrong with. White colored doors are perfect for both your internal doors as well as external doors.
2. Black
It is really hard to go wrong with black color front doors as well as internal doors. Black color is extremely elegant and is also known as the king of colors. Though the trends change every year, this color will always remain at the top. Door colors like black are both bold and sophisticated at the same time. A black colored front door also adds value to your home financially by increasing its real estate value.
3. Grey
Neutral gray is a good choice to go with the unpainted wood paneling on the exterior as well as the interior of the house. Grey being a neutral color blends with any type of color of your neighborhood effortlessly. If you paint your doors grey, you wouldn't have to worry about it not matching with the surroundings ever.
4. Classic Wood
Natural woods still fall in the category of popular front door colors for 2021 for a long time. The timeless and basic charm of wood promotes a warm and welcoming feel. Besides, if you don't want to paint your door, unpainted wooden doors are the best options available. The best thing about wooden doors is their versatility. Wood color will perfectly blend with your walls regardless of its finish.
5. Red
A red colored front door stands different against every color while retaining a look of elegance and dignity. Red doors equals undivided attention. It always stands out from the rest of the colors with its energetic and striking aura. If you want to highlight your entryway, then paint it with bright and bold colors like red. Red color has various shades in itself, and no matter which shade you select, it never fails to create a welcoming feel.
6. Purple
Purple is a bold color that symbolizes wisdom, royalty, independence and power. It is a rich color that draws people's attention towards your home and makes your front door stand out from the rest of the doors. Purple color brings a rich look to the front door of your house. Neutral colored homes like beige ones look amazing with purple colored interior doors.
7. Teal
Teal color is a mixture of blue and green that denotes calmness and offers a relaxing exterior. Some may rely heavily on a bluish color, while others are more inclined towards green color. Most of the farmhouses and beaches are painted in teal color to promote refreshing and aquatic aura. Teal colored doors are an amazing option to consider.
8. Yellow
Yellow has become a popular exterior door color. It is a bright, sunny, welcoming, and always cheerful color. It is a simple color, but definitely not something that fades in the background. A yellow colored front door symbolizes that you make a bold choice of front door colors even having a traditional home.
9. Turquoise
Turquoise colored front door against the brick outline expresses a meeting of modern and traditional design. Turquoise shade color creates a balance to an old and outdated architecture. Turquoise blue is an excellent choice for front door colors. The hue brings a touch of sea and thoughts of the beach to your home. It is unique without being too loud.
10. Orange
Not being far from coral shades on the family tree, orange is perfect for making a splash and works well against a light background. Orange is known to be an extremely bold and exciting color. It warms up the front of the house and creates a new and different look for your home.
11. Olive Green
Green is said to be the color of energy and renewal. You can't go wrong with these good vibes in the front of your home. Muted olive green is a very popular front door color. This color compliments white and grey exterior paint very well. You can hang a white colored wreath to complete the look of an olive green colored door.
12. Blue
A bright blue door can enhance the architecture in your home's facade. Blue color pops next to anything else. Being a primary color, blue blends well with nearly everything in the spectrum. It has a friendly vibe and is known to be a calming color that represents reliability. A bright blue front door against the white exterior is a match that does not dull out. Blue is a timeless color that will be suitable for all seasons.
13. Wine
Wine shade paint colors are very trendy these days. Mulberry color doors look great from both inside as well as outside. Choosing a wine colored paint for your door allows you to maintain the grain and texture of your door without having to settle for the traditional wood color.
14. Pink
If you're looking for something unique that pairs well with light-colored surroundings, pink may be the perfect front door color for you. It is a whimsical choice for front door colors. It brightens up the nearby surroundings instantly. Your decorating options are limitless with a pink color front door. You can also hang a >wreath on a pink color door to pull the look together.
15. Pastel Shades
Pastel colors like soft and light shades of blue, green and pink make guests feel welcome. These shades are very popular in coastal areas. If you want to create the look of a modern front door without replacing anything, this is a really clever choice.
Conclusion:
You might never get a second chance to make another first impression. So why not do it the right way from the beginning? The art of selecting the best door paint colors for your home is not as easy as it seems. You need to carry out proper research about your neighborhood and the trending seasonal door colors.
Trends keep changing every year, and to stay ahead in the competition it is necessary to stay up-to-date with the changing trend. All colors symbolize different things. Select the ones that matter more to you before choosing your suitable front door colors.
Interior door colors are different from exterior door colors. It is necessary to figure out the difference between the two before painting your doors. Both these types of doors are to be painted depending upon the running trend in the market.
FAQ:
  What color should I paint my front door to sell my house?
Painting your front door with trending colors increases the sale value of your house. If you are not a fan of bold colors, opt for basics like back and white. But, if you  like to experiment with the changing trends, we would suggest you to opt for popular front door colors of the season.
  Can I paint my front door myself?
Yes, why not! You can always paint your front door yourself according to your choice if you are looking to save some extra money. Ensure to use water based finishes at the end to give your door a smooth and clean finishing texture. You always have the option of hiring professional painting services to paint your doors in amazing colors.
  Can I paint aUPVC door?
Of course you can. Remove any flakes from the doors and fill the holes if any. Apply two strong coats of primer to provide your UPVC door some extra protection. Ensure that all the damaged areas are previously filled before applying the primer coating.
ABOUT THE AUTHOR: SHABANA KAUSER
Shabana Kauser is the dynamic owner of Emerald Doors, the famous door-selling company in the UK with immense knowledge and experience in working with architecture, interior design, and home decor. She continues to share tips and technical know-how of balancing interior elements, door fittings, room aesthetics, and the like. Personally, she loves coffee, always dabbling with several blends.