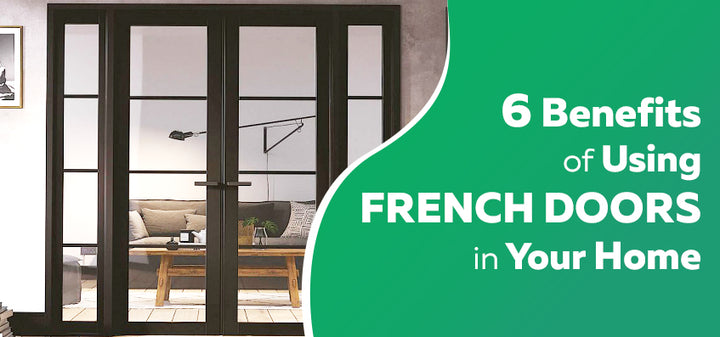 6 Benefits of Using French Doors in Your Home
French doors connect spaces and can be an excellent access point between adjoining rooms or Outside spaces. They are divided into many panels, which create a grill like the design. This vague definition is what comes to mind when one thinks about a French door. However, of course, a French door is much more than that.
Slowly and steadily, French doors are becoming more accessible across homes, and they look like great additions to one's home. However, more than a great aesthetic addition, a French door serves a multitude of different benefits, which are talked about below.
Raise Value of Home
Having an artistic addition in your home cannot hurt but instead, having something as popular as a French door as an addition in your home will only increase its value in monetary terms.
It is a common point that buyers love such amenities in the houses that they want to buy and are willing to pay more for a home which is beautiful. Having something contemporary like a French door, which never goes out of style will only help in increasing the value of your house.
Versatility
As far as the French doors go, they will be a good fit for your home considering their versatile nature. In terms of the look, you will have many styles to choose from, be it an old-style farmhouse type look or a new luxury estate home look.
Secure
Contrary to popular belief, by installing French doors, you are not compromising your security in any way. These days, French doors are incredibly safe. They come with some of the best locks, such as high-security locking systems and full adjustable hinge systems. One can also customize the locking patterns for different doors and use various security systems, which can be easily combined with these doors.
Durability
The fact that these doors are made of glass does not mean that they are not durable. It all depends on the type of glass which you use for your door.
Style
Ah, the aesthetics. Who can ignore that? The aesthetic beauty which the French doors add to a home is what they are known for around the world. The wooden frames of the door give your home a vintage look in itself. One can either use a solid color to paint off the wood for a more modern look, or you can get the frame sandblasted and polished to show off some wooden grain.
You can also experiment with how the door opens. Some people prefer the sliding French door concept, which goes in line with their modern homes, while some like the idea of the classic doors which open outside, giving off a traditional and vintage look. Remember, it is all about aesthetics.
Use it as an Interior or Exterior Door
French doors comes in two different forms - Interior French Doors and Exterior French Doors. In modern homes, people use Internal French Doors to connect two separate rooms. The big windows thereby give off a look of a big, single room. The same concept is applied to a dining room and kitchen.
Internal French Door
As far as the exterior use goes, French doors are used as a connecting door to the garden or the back yard. With these doors, one can quickly get the feel of the garden even without being there.
External French Door
Conclusion
With the advent of technology, one can see that they have now become much better in terms of how they were before, which is why it is now a much more popular option than any other type of door in the current scheme of things.
ABOUT THE AUTHOR: SHABANA KAUSER
Shabana Kauser is the dynamic owner of Emerald Doors, the famous door-selling company in the UK with immense knowledge and experience in working with architecture, interior design, and home decor. She continues to share tips and technical know-how of balancing interior elements, door fittings, room aesthetics, and the like. Personally, she loves coffee, always dabbling with several blends.